Quibi is a premium service in a short-form video market dominated by free options from companies like Alphabet's (GOOGL) YouTube, Snap (SNAP), Facebook (FB) and TikTok. It also competes with traditional subscription video-on-demand services such as Netflix (NFLX).
Because Quibi was designed for smartphone viewing, it features some interesting technologies. Chief among those is Turnstyle, which changes the viewing experience whether you are watching in horizontal or vertical mode.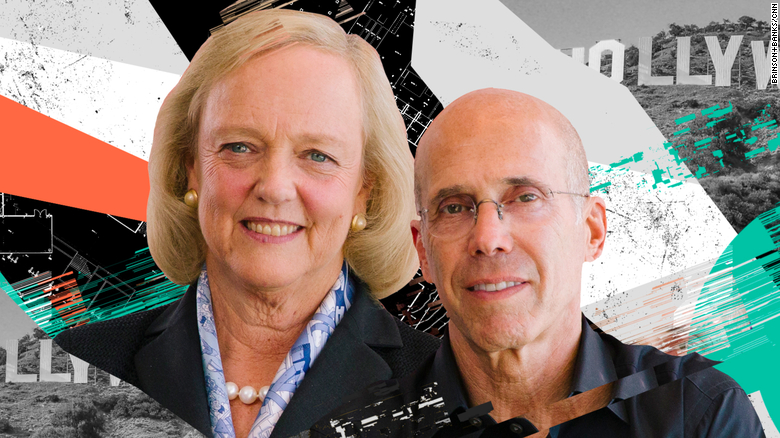 Quibi is led by former DreamWorks Animation and Walt Disney (DIS) executive Jeffrey Katzenberg and former eBay (EBAY) and Hewlett Packard Enterprise (HPE) head Meg Whitman. The pair debuted their vision for Quibi during a keynote presentation in January at CES 2020. The venture has raised $1.75 billion in funding, according to the Wall Street Journal.
Quibi, a mobile-only short-form video service, launches Monday with a host of star-packed shows and an unproven business model. Designed to serve "quick bites" of entertainment to time-starved, on-the-go consumers, Quibi debuts amid the Covid-19 coronavirus pandemic when many people are stuck at home with time to kill.
To get consumers interested, Quibi is launching its subscription video-on-demand service with lengthy free trials and promotional tie-ins. Quibi will cost $4.99 a month with advertisements and $7.99 a month without ads. But the service is giving all new subscribers a 90-day free trial.
Also, wireless carrier T-Mobile (TMUS) is giving qualifying subscribers a free year of Quibi.
"I think making it available for free for 90 days is a wise move," said Colin Dixon, an analyst with nScreenMedia. "That will maximize exposure to the service. But they better have some great content coming after the 90-day window expires or they will lose all the potential paying subs."
Three months from now, consumers likely will be facing a recession and will be in "cash-conservation mode," Dixon said. "Quibi will definitely fall into the luxury category."
Quibi will serve up original content to smartphones in segments of 10 minutes or less. It will offer reality shows, documentaries and scripted fare. Movies are divided into short episodes.
Quibi movies include action-thriller "Most Dangerous Game," starring Liam Hemsworth, and plane-crash drama "Survive," starring Sophie Turner. On the lighter side, it will offer the comedy "Flipped," starring Will Forte and Kaitlin Olson.
Unscripted shows are coming from Jennifer Lopez, Idris Elba, Reese Witherspoon, Chrissy Teigen, Chance the Rapper, Usher, LeBron James and Nicole Richie.